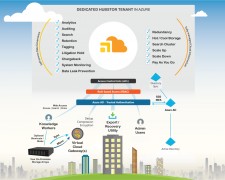 HubStor extends its suite of cloud data management capabilities to support chargeback use cases, giving organizations more value from its data-aware cloud storage for business platform.
KANATA, ON, October 18, 2016 (Newswire.com) - HubStor Inc., the developer of data-aware searchable cloud storage for business, today announced that new chargeback features are now generally available in its cloud archiving service which it delivers exclusively on Microsoft Azure. With today's release of cloud storage chargeback, HubStor is equipping customers with the ability to track, visualize, and report on data storage costs and their relationship to specific projects, clients, or departments.
Organizations that must keep unstructured data can use chargeback reporting to associate data preservation costs to business entities, typically either projects or clients. Depending on the scenario, organizations can also incorporate storage chargeback into their financial model or contractual arrangements, transforming storage from being a cost item into a revenue-generating service for their business.
"Chargeback enables easy attribution of storage costs on a project or client basis, along with scoped data management controls for retention."

Geoff Bourgeois, CEO, HubStor
Chargeback and Data Governance
HubStor takes chargeback to the next level. Data governance policies for retention, content indexing and data leak prevention can work with chargeback tags created in its cloud data management platform. This way, in addition to using chargeback for reporting or billing purposes, it is also possible to leverage it for managing and securing the information assets in a targeted manner.
Use Cases for Data-Aware Storage Chargeback
HubStor's chargeback is integrated into its data-aware storage and is designed to benefit the following use case scenarios:
Legal Services – Law firms that retain client data as part of their e-discovery practice are storing this low-touch, high-risk data on expensive primary storage arrays which are costly to operate and prone to ransomware and exfiltration attacks. Worse, this storage is not data aware, so firms are incurring storage and other IT costs without defensible chargeback to the client. With HubStor, firms reduce their risk profile with a high-security archiving strategy that costs less and enables chargeback.
Construction / Engineering – Project-oriented businesses such as construction and engineering firms are legally required to preserve project-related data for years beyond project completion. Typically, this data is retained on expensive primary storage arrays on-premises. With large file sizes, storing and backing up large volumes of inactive data amounts to high costs, and over time it is easy to lose track of retention schedules. With HubStor's data-aware storage and chargeback, firms can meet their legal requirements for data preservation while reducing their spending on storage and backup. With chargeback, they can also gain insight to understand project costs better and automate defensible deletion of project-related data.
Large Corporations – IT teams within large businesses may need to support chargeback to divisions or departments within the enterprise, or they may want to perform 'show back' of data storage consumption to help in data clean up efforts. With HubStor, IT teams can interrogate and manage unstructured data by ownership, access rights, locations, types, and chargeback tags. HubStor's data-aware storage makes it easy to visualize and report on content, even at petabyte scale.
"The primary value for law firms is to provide better security for client data at a lower storage cost, and HubStor delivers that better than anything else in the market today," said Greg Campbell, CTO, HubStor. "With our new chargeback reporting, law firms can defensibly charge their customers for the storage of their case data too."
"HubStor has clients who are legally required to retain project-related data for years after project completion," said Geoff Bourgeois, CEO, HubStor. "Chargeback enables easy attribution of storage costs on a project or client basis, along with scoped data management controls for retention."
Cloud Storage Benefits
Chargeback in the enterprise data storage area is by no means a new concept. However, businesses are unable to keep up with the growing storage demands of unstructured data, making it difficult to protect, manage, and analyze the information and storage infrastructure.
HubStor augments the existing storage arrays customers have on-premises with its virtual cloud gateway, a pure software approach to automated, rules-based synchronization and migration of older, less active data to the cloud. HubStor makes the cloud a seamless extension of the on-premises storage infrastructure. In the cloud, data-aware storage concepts dovetail with data governance features to provide continuous insight and control over data assets.
Organizations that face hacking threats can draw distinct advantage from HubStor's cloud storage security stack which consists of AES-256 bit encryption, data leak prevention, directory synchronization, single sign-on, multi-factor authentication, private/sensitive data identification and tagging, role-based access control, and access rights synchronization. HubStor deploys tenants exclusively in a single-tenant model, providing sandboxed environments in the cloud for each customer.
About HubStor
HubStor provides data-aware cloud storage for businesses needing to protect, manage, search, and recover unstructured data in a highly secure manner using public cloud infrastructure.
Headquartered in Canada and currently serving clients in the United States, Europe, and Canada, HubStor is the world's first data-aware cloud storage solution. Delivered exclusively on Microsoft Azure, HubStor is a Microsoft partner and a member of the Microsoft Enterprise Cloud Alliance.
###
Media Contacts
Elizabeth Lam
HubStor Inc.
Source: HubStor Inc.
Share: