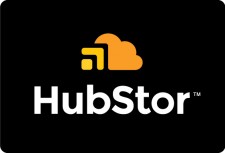 HubStor to showcase new cloud data management capabilities for Microsoft Office 365 at the event.
LONDON, February 21, 2019 (Newswire.com) - HubStor, a leading innovator in software-based cloud storage solutions, today announced it is a platinum sponsor of the Microsoft Ignite | The Tour London event taking place Feb. 26 and 27 at ExCeL London.
Attendees of Ignite | The Tour London can see live demonstrations of the HubStor platform. HubStor recently unveiled new cloud data management capabilities that support automated backup and retention of Microsoft Office 365 content based on Microsoft Azure Active Directory attributes.
"Organizations are increasingly moving to a hybrid-cloud model, and new data privacy legislation along with modern cloud capabilities are changing the IT landscape," said Geoff Bourgeois, CEO at HubStor. "IT leaders are rethinking fundamentals such as storage, backup, and long-term retention, making cloud data management solutions such as HubStor a top-of-mind opportunity."
HubStor's CEO, Geoff Bourgeois, will be in attendance and will be speaking about digital transformation with cloud data management on Microsoft Azure.
"We are excited to have HubStor be a part of the Microsoft Ignite The Tour in London to help expand their market reach into a new region," said Jeana Jorgensen, General Manager, Commerce and Ecosystems Group at Microsoft. "HubStor running on Microsoft Azure offers a unique SaaS solution for enterprises in the process of transforming their approach to data protection and data management."
To learn more about software-based cloud storage, check out the TechTarget whitepaper: Transforming Your Data Storage Strategy: The Smart Move to Software-Based Cloud Storage or visit the Azure Marketplace to evaluate HubStor: https://azuremarketplace.microsoft.com/en-us/marketplace/apps/hubstor-inc.hubstor-demo.
About HubStor
HubStor is a leading innovator in cloud-based storage software. Enterprises use the HubStor cloud data management platform to transform their data storage and protection practices, backup their Office 365 data, journal electronic messaging, and manage long-term retention of unstructured data. HubStor is headquartered in Ottawa, Canada, and is a Microsoft Co-Sell Prioritized and Gold ISV Partner.
Media Contact
Elizabeth Lam, VP of Marketing
​Email: liz@hubstor.net
###
Source: HubStor Inc.
Share: