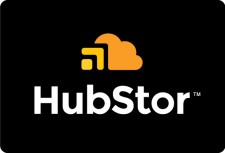 HubStor delivers extremely fast file server recovery from the cloud without the need for local cache copies or expensive downloads
KANATA, ON, May 23, 2017 (Newswire.com) - HubStor Inc. today announced new cloud backup and recovery capabilities designed to streamline enterprise backup and disaster recovery strategies for the cloud era.
Organizations store vast amounts of unstructured data which they seldom delete. The result is a storage footprint with 80% to 90% of the data being inactive or rarely accessed. Traditional backup systems will make a copy of whatever is on the source system, and in a recovery scenario, the recovery time objective (RTO) lengthens because the backup restores the full copy containing mostly stale data onto the source system.
"Our new cloud recovery features position HubStor as a leading alternative to traditional backup for file servers. When you compare the cost, value, and effort between HubStor and classic backup and recovery methods, what HubStor now offers is truly game-changing."

Greg Campbell, CTO, HubStor
The problem intensifies as companies look to use the cloud for backup and as an offsite data protection strategy. Not only does the customer pay for all the data transfer and storage activity to fetch the large backups containing mostly old data, but they also incur a significant hit on their network connection to download it.
Current cloud backup best practices will mitigate having to restore from the cloud by recommending that you keep your most recent backups on-premises. As a result, backup to the cloud is primarily used for non-critical data, and traditional backup is used for critical data that requires a short recovery time objective. However, this is expensive and time-consuming to configure and maintain.
HubStor's patent-pending cloud recovery innovation sidesteps the physical limits as to how much data can be moved in a given amount of time over a network connection, thus making cloud backup a viable standard approach.
HubStor is an archive system or secondary storage tier in the cloud that, like a backup, captures a point-in-time snapshot of the source system on an automated schedule. In essence, HubStor maintains a synthetic full backup in the cloud with deduplication, compression, and encryption.
Unlike traditional backup, HubStor also includes the ability to virtualize or ghost targeted subsets of the data in the data source through policies. This results in converting the stale data into small pointer files which seamlessly perform a recall when a user or application opens them.
In a data loss recovery scenario, whether data has already been ghosted or not, HubStor now offers the flexibility to leverage data ghosting to recover a portion of the dataset from the archive/secondary storage tier as full originals while everything else virtualizes in the source as seamless pointers.
This innovation by HubStor provides the following game-changing advantages:
Shortens recovery time – HubStor delivers faster recovery than traditional methods because it enables file backups to virtualize in primary storage through seamless pointer files. This is a local operation that rapidly executes. Then, the most recent data fully restores from the backup to provide users with optimal access to current information assets. Effectively, users gain access to the entire dataset, and it was only necessary to physically restore a small percentage of the backup.
Minimizes cloud egress – HubStor avoids substantial impact on the network connection by sizing down what physically recovers from the cloud backup (which also means incurring significantly less data transfer fees).
Eliminates the need for local backup storage – HubStor removes the need for local copies as a means of minimizing cloud recovery activity.
In the cloud backup, there is a minimum of three synchronous copies of the data, and clients can upgrade to have three additional copies in a secondary cloud datacenter.
For organizations concerned with malicious or accidental activity against their cloud storage account, HubStor can also create a backup copy of the data in a shadow cloud storage account.
HubStor's advantages as an ongoing synthetic full backup of file share data also include the following:
Searchable backup for legal investigations – HubStor is a searchable backup. In legal scenarios, through a Web interface, privileged users search within the backup, manage legal hold, and collect data of interest without having to restore the full backup on-premises. This offers significant cost saving opportunities for organizations that still rely on tape backups in their litigation readiness strategy.
Ransomware recovery – HubStor provides point-in-time recovery to restore file shares to a last known healthy state.
Overall storage reduction – HubStor's data ghosting capabilities can also be used to provide proactive storage tiering to curtail the capacity demands in primary storage radically. With HubStor's ability to recover data as seamless stubs, organizations can repurpose the primary storage capacity they reclaim or defer spending on new storage.
VM and application backup acceleration – By virtualizing the inactive application data and the stale data within virtual machines, HubStor optimizes other backup and replication operations.
Offsite data protection for database and VM backups – Clients use HubStor to automatically capture backup files into Azure for their offsite data protection strategy.
Application retirement – Clients also use HubStor as a low-cost, long-term archive for legacy application data, and for decommissioning old hardware.
"Our new cloud recovery features position HubStor as a leading alternative to traditional backup," said Greg Campbell, CTO, HubStor. "When you compare the cost, value, and effort between HubStor and classic backup and recovery methods, what HubStor now offers is truly game-changing."
The new HubStor cloud recovery features are available now. Existing HubStor clients gain access to the functionality by just downloading the latest version of the HubStor Export Utility following an update of their HubStor tenant.
About HubStor
HubStor helps organizations transform their storage, archiving, search, and data protection processes with the cloud to reduce costs and improve the security of mission-critical data assets. HubStor is Software-as-a-Service (SaaS) delivered on Microsoft Azure. Organizations use HubStor's cloud storage solution for a broad spectrum of use cases, including searchable cloud backup and recovery, file system archiving and seamless storage tiering, evidence management, SMTP journaling for Office 365, and WORM storage in the cloud.
HubStor currently serves clients, large and small, across a variety of industries in the United States, Canada, and Europe. HubStor is a CIOReview '20 Most Promising Azure Solution Provider in 2016' and is a member of the NetApp Alliance Partner Program and Microsoft Enterprise Cloud Alliance.
###
Media Contacts
Elizabeth Lam
HubStor Inc.
Source: HubStor Inc.
Share: