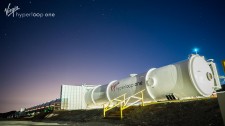 HubStor provides data protection and data management of Virgin Hyperloop One's on-premises and cloud-based information.
OTTAWA, Ontario, April 16, 2019 (Newswire.com) - ​​​​HubStor today announced it has been selected by Virgin Hyperloop One to protect and manage its mission-critical data. Facing data growth in cloud-based applications and on-premises storage, Virgin Hyperloop One deployed HubStor's scalable and centralized data management solution to simplify backup, disaster recovery and archives.
Virgin Hyperloop One is the only company in the world that has successfully tested its Hyperloop technology at scale. The company successfully operated a full-scale Hyperloop vehicle using electric propulsion and electromagnetic levitation under near-vacuum conditions, launching the first new mode of mass transportation in over 100 years. The company is now working with governments, partners and investors around the world to make Hyperloop a reality in years - not decades.
Realizing a fundamentally new form of transportation that is faster, safer, cheaper and more sustainable than existing modes on a global scale requires Virgin Hyperloop One to safeguard its mission-critical information in a secure, agile and scalable solution.
With HubStor's cloud data management platform, Virgin Hyperloop One can:
Automate data management, including optimization of its on-premises storage footprint with encryption, tiering, deduplication, and compression,
Protect and recover SaaS-based data, including Microsoft Office 365,
Search multiple data types quickly and efficiently across various applications and storage arrays,
Provide long-term retention at a lower cost than primary storage,
Improve security, auditing and discovery.
Comments on the News
"We're excited to support Virgin Hyperloop One on its mission to realize an important new form of transportation," said Geoff Bourgeois, CEO at HubStor. "With HubStor, Virgin Hyperloop One has peace of mind that it has best-in-class data management, giving them vital agility and flexibility with information they'll need to enter and evolve in an industry that is highly regulated."
"After an exhaustive review of the market, we found HubStor to be the cloud data management platform that best aligned with our requirements," said Dawn Armstrong, Director of Information Technology at Virgin Hyperloop One. "HubStor's robust data management gives us confidence that our data is protected and easy to manage."
About HubStor
HubStor is a leading innovator in cloud-based storage software. Enterprises use the HubStor cloud data management platform to transform their data storage and protection practices, backup their Office 365 data, journal electronic messages, enable cloud-tiering of file systems and manage long-term retention of unstructured data. HubStor is headquartered in Ottawa, Canada and is a Microsoft Co-Sell Prioritized and Gold ISV Partner.
###
Press Contact
Karen Wilson
Marketing Manager
karen@hubstor.net
613-704-1737, ext. 204
Source: HubStor
Share: