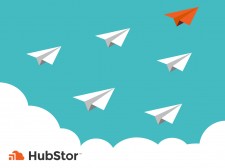 VMWare vSphere customers can now reliably protect and recover virtual machines using HubStor's unique BaaS approach through a pay-as-you-go subscription.
OTTAWA, Ontario, May 20, 2020 (Newswire.com) - ​​​​​​​​​​HubStor, a leading provider of cloud data management, today announced the availability of its Backup-as-a-Service (BaaS) offering for VMware vSphere virtual machine backup, replication, and archival. HubStor's announcement comes as the company ramps up the expansion of its unified backup and archive platform, providing organizations a cost-efficient approach to replacing legacy point products with a modern cloud data platform.
HubStor's virtual machine backup solution for vSphere delivers simplified backup policy administration and monitoring, fully-integrated encryption, replication, and low-cost cloud storage.
With traditional backup offerings, a customer must license the software, then configure and manage secondary and offsite backup storage themselves. HubStor's cloud-first approach enables customers to specify a small local cache for fast access to their most recent backup set. At the same time, HubStor maintains an immutable cloud replica automatically, achieving the 3-2-1 gold standard for data protection effortlessly. For long-term retention of backup sets, HubStor offers in-cloud backup and tiering options to preserve backups on ultra-low-cost cloud archive storage with geo-replication.
With the rising threat of ransomware that can target backups, organizations need to protect their backups with immutable storage. HubStor provides write-once-read-many (WORM) storage for all backups, seamlessly ensuring that any malicious encryption of local backups will not be a business-impacting event. Customers have the flexibility with HubStor to recover virtual machines to any on-premises and cloud infrastructure.
"HubStor is firmly planting its flag in the backup market with this release," said Geoff Bourgeois, CEO and co-founder at HubStor. "Our differentiation is threefold: a streamlined user experience, simplified infrastructure for customers through Software-as-a-Service, and highly-competitive pricing."
HubStor's virtual machine backup service is available in both dedicated and shared BaaS models with pricing based mainly on cloud storage consumption instead of the number of virtual machines protected.
HubStor recommends dedicated BaaS instances for enterprise customers that need advanced security, data sovereignty controls, unlimited performance scalability, and scale-out expansion into HubStor's other offerings such as file system tiering, Office 365 backup, journaling, and content archiving. Pricing for a dedicated instance starts at $335 per month, with monthly storage costs ranging from $0.003 to $0.03 per gigabyte after deduplication and compression savings.
HubStor's shared BaaS model offers a lower entry price for customers that just want HubStor's virtual machine backup capabilities. Pricing in the shared instance starts at $50 per month, scaling after that as a cost per gigabyte of storage. Backup storage costs in HubStor's shared BaaS offering range from $0.003 to $0.03 per gigabyte monthly depending on the type of storage, with customers having full control over the storage tiering and retention of their backups.
"The HubStor virtual machine backup product is just like the rest of their software: It is fast, simple, reliable, and has an extremely small infrastructure footprint. One exciting feature is that it integrates directly with the SaaS management dashboard and storage accounts of our other HubStor products in use (file tiering and Office 365 backup). We look forward to seeing HubStor's virtual machine backup go general availability so that we can replace our expensive and extraordinarily complex backup product currently in use," said Ryan Reichart, Manager, Infrastructure Systems at Axon.
HubStor's 15-minute setup process of the agentless HubStor Backup Service allows IT administrators to begin reliable protection of their virtual machines without undertaking a time-consuming onboarding and set up process.
"Our customers are telling us that their current backup product does a good job but comes at a high price tag, and the user experience is cumbersome," said Greg Campbell, CTO and co-founder at HubStor. "In our private preview program for virtual machine backup, which we ran in February and March of 2020, participants often cited the ease of use and overall simplicity of the HubStor approach as their main attraction."
Managed Service Providers (MSPs) can also offer HubStor's BaaS for VMware vSphere, in addition to other backup and archiving workloads on the same unified cloud data platform.
"Love the simplicity of HubStor's UI - setup took less than 30 minutes, and it just works. This is one of the simplest ways for us to achieve our offsite backup requirements. I can sleep well knowing there's an immutable copy of our VMs on Azure storage, and I can access those backups easily within the same pane of glass my other HubStor content lives in," said Cory Coles, Senior Systems Administrator at Virgin Hyperloop One.
Learn more at https://www.hubstor.net/solutions/virtual-machine-backup
Press Contact
Dan Moshkovich
Marketing Director
danmoshkovich@hubstor.net
+1-855-704-1737
Source: HubStor
Share: